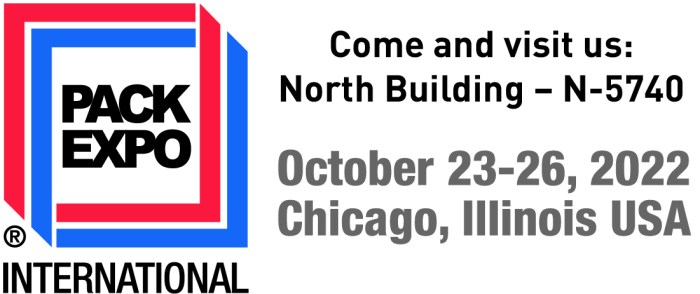 MARCO are pleased to announce that we will be exhibiting at PackExpo, Chicago from 23rd to 26th October 2022 partnering with our ATS affiliate NCC Automated Systems
Our expert sales team will be running meetings and showcasing some of our latest and core products aimed at the fresh produce industry, including:
TrayMaster, an innovative end of line solution designed to automate the last stage of the packing process. Our clients report productivity lifts of over 30%, dramatic savings in the labour required and huge material savings brought about by the accuracy of our scales and superior packing techniques.
Our new touch screen SelectMaster – A complete stainless steel combination scale. The twelve-pan weighing solution is effective for fast selection processes to reduce giveaway and achieve optimum pack weight.
TaskMaster Tripod Takeaway Workstation – The latest terminal from MARCO incorporating an all new touch screen. As with previous terminals these can be used for both positive and negative weighing applications. Rated at IP69K means it can be operated in high care and low care environments.
To find out more about MARCO products and how we can help your business or to book a meeting with our sales team on our stand – North Building – N-5740, please contact them direct on the details below. Alternatively, please feel free to visit our stand at any time during the show. We look forward to seeing you.
Jack Lidiard | Senior BDM For North America
Mob: +44 (0)7423 432 153
Connect with Jack on LinkedIn
Rubens Castro , Managing Director
Mob: +44 (0)7740 723 299
Connect with Rubens on LinkedIn
Les Burstow, Customer Experience Director
Tel: +44 (0)1732 782 380
Connect with Les on LinkedIn