MARCO Trac-IT® Quality Control Module (QCM)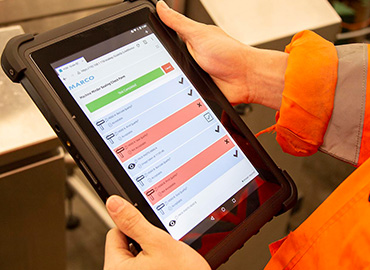 Go paperless and reduce time consuming administration with MARCO's improved Trac-IT® Quality Control Module (QCM)
Specifically developed to enable businesses to digitise quality control procedures across all areas of production, MARCO's improved Trac-IT® Quality Control Module (QCM) enables Quality Control Operators to easily capture and share essential information at the click of a button.
Reduce human error with bar code scanning and drop-down lists to avoid incorrect information being entered.
MARCO's simple to use QCM application will reduce time spent on administration tasks and eradicate the need to store paperwork. MARCO QCM can automatically email reports to the relevant person and stores all information on a central server, enabling you to access all your data instantly.
Real time results allow you to quickly identify any areas of improvement, ranging from common machine faults to pack presentation, therefore eliminating potential waste and reducing production costs.
Benefits of QCM – 100% digital – 0% paper
Eradicates paperwork and reduces administration
Automatic email of questionnaire results
Digital Management sign-off
Time sensitive tests
Full accountability
Image capturing
Location based tests
Integrates with existing MARCO applications
For more information on MARCO Trac-IT® modules please contact our sales team, sales@marco.co.uk